Build It and they will come...
There are millions of people coming to the web every day, how can you capture their attention?
A custom solution? Sure. If you have the know how, the money and the time. A site that sets you apart from the crowd? Absolutely. Just put yourself into website and you are heads above the rest!
...but why not put your efforts into what you know best (your product and customer base) and let others take care of the rest?
We suggest you learn HTML and become one with the Internet... knowledge is power, but let us get you started on the right foot with a site that attracts visitors hand over fist!
Our Friends at SiteSell can do just that for you.
Let SiteSell's specially trained experts build your site for you using SBI! and the proven C

T

P

M process.
A SiteSell Services Specialist performs a thorough keyword research based on your business theme. These are the types of words that potential customers enter at Google (and other engines) to find you, instead of competitors!
Together with an SBI! Specialist, you will develop information about your niche to prospective clients who visit your Web site. Ultimately, you will own your niche online by giving your visitors the information and solutions they are looking for.
SiteSell.com founder Ken Evoy literally wrote the classic book on how to make a high-traffic Web site. Called Make Your Site SELL!, over 100,000 copies were sold.
Online, people are searching for information and solutions. By making your site/business easier to find via Search Engine results and by providing quality relevant content, your chances of converting visitors to customers increase exponentially. SiteSell Services will help you accomplish this.
A SiteSell Specialist will keep you fully informed, requiring a relatively limited amount of your time.
SiteSell Services charges significantly less than local Webmasters -- they use a time-efficient productive process that benefits everyone.
No need to settle for an expensive fancy "brochure site" that doesn't generate any traffic.
SiteSell Services will get the Web working for you. It's time for you to own a Web site that drives business!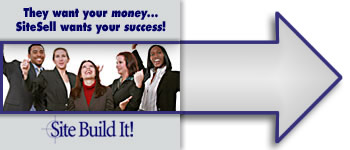 Hosting | Building | Selling | Automation